Software and Systems Development (SSD) Pathway
The goal of the Software and Systems Development (SSD) Pathway at Enochs High School is to give a sense of the broad reach of computer science throughout all industry sectors, throughout the world, and to demystify computer science. Students will realize that computer science knowledge and skills will give them an edge in whatever industry they wish to pursue and that these skills are within their reach. Students of the four-year pathway will complete UC A-G approved courses while advancing skills, knowledge, and abilities in computer science and professional skills and certifications. The SSD Pathway places an emphasis on equitable and hands-on learning and offers unique opportunities for students to interact with industry through field trips, speakers, mentors, job shadowing, and internships. Most importantly, the SSD Pathway is adaptable to the ever-changing needs of the computing industry to ensure a quality, relevant, and equitable program for all students.
The SSD pathway includes courses in: Exploring Computer Science, Robotics Engineering I, 3D Graphics & Animation for CS, Video Game Development, Artificial Intelligence, Web Application Development, Cybersecurity 1-2, Cybersecurity 3-4, Cybersecurity 5-6, Software Engineering, and Internship in Computer Science.
One of the greatest strengths of the SSD pathway is that students can pursue their own path through the courses. In this way, students can choose to explore different areas, or specialize in any one area.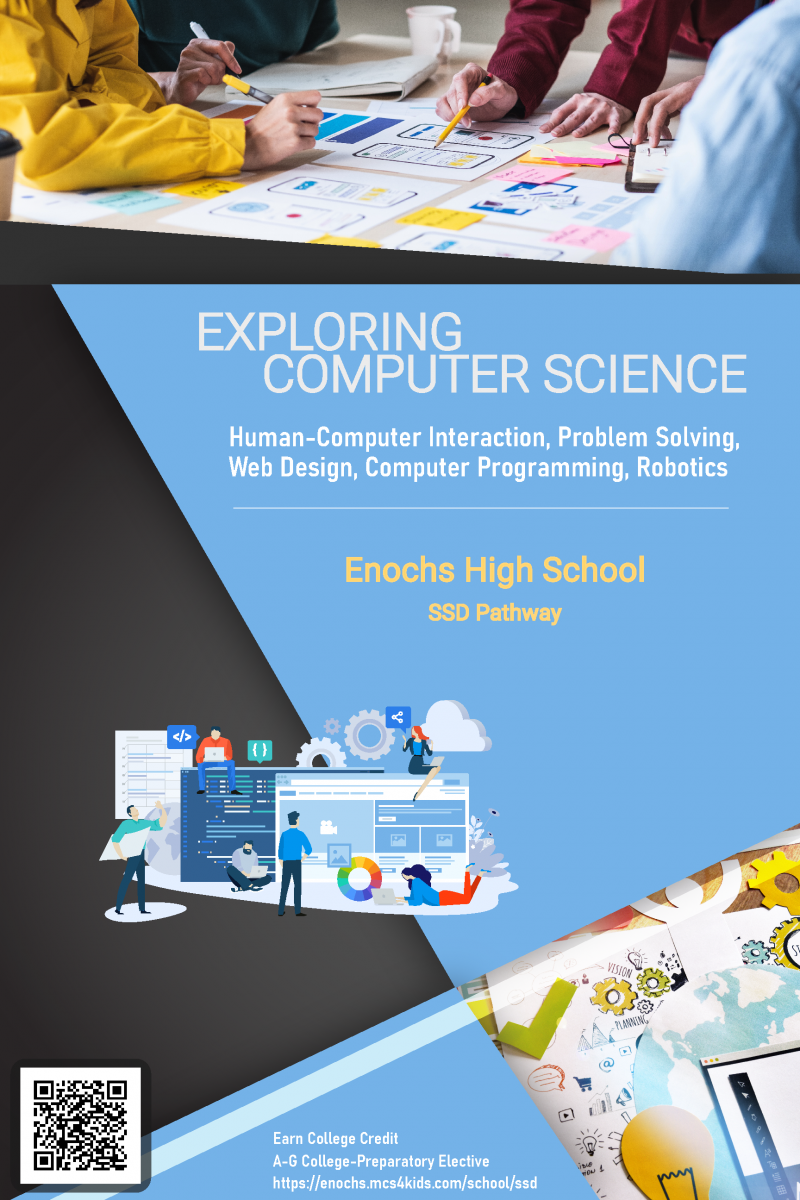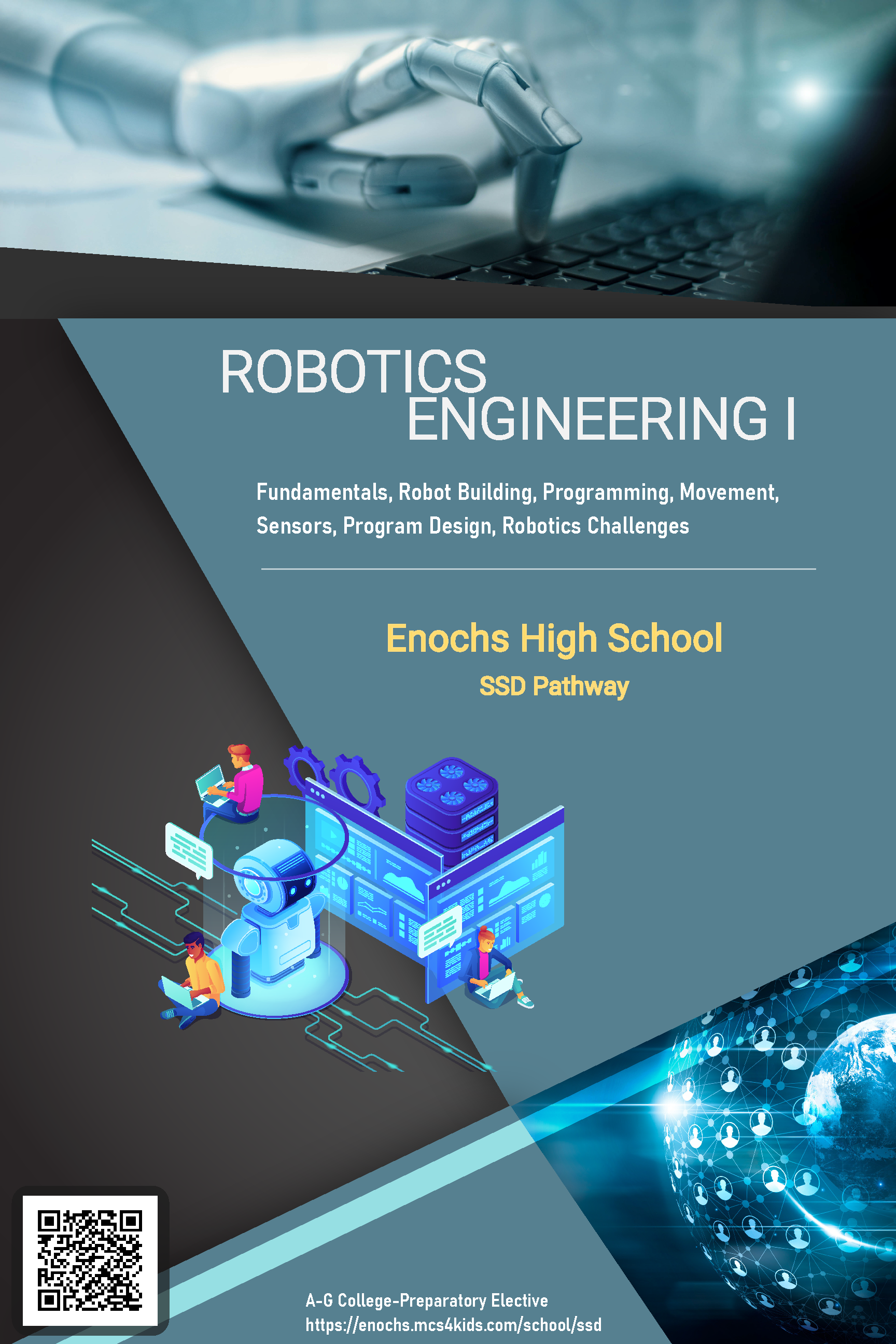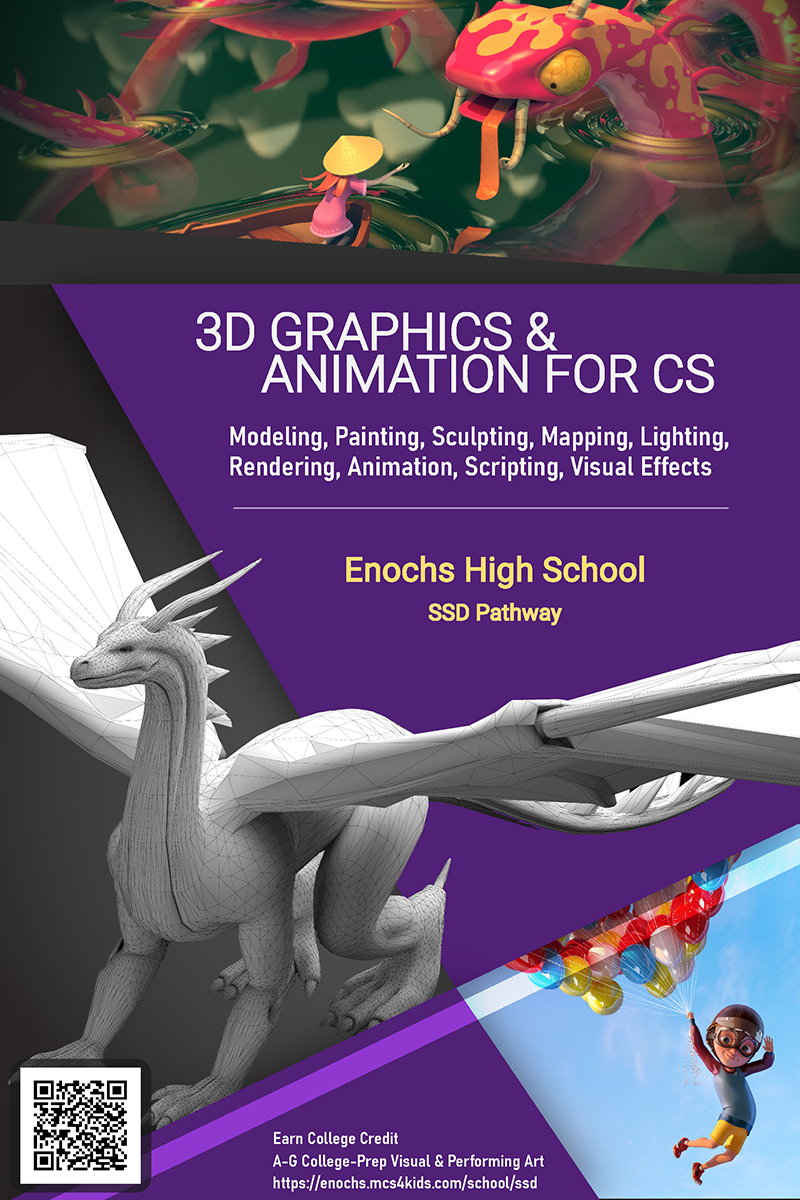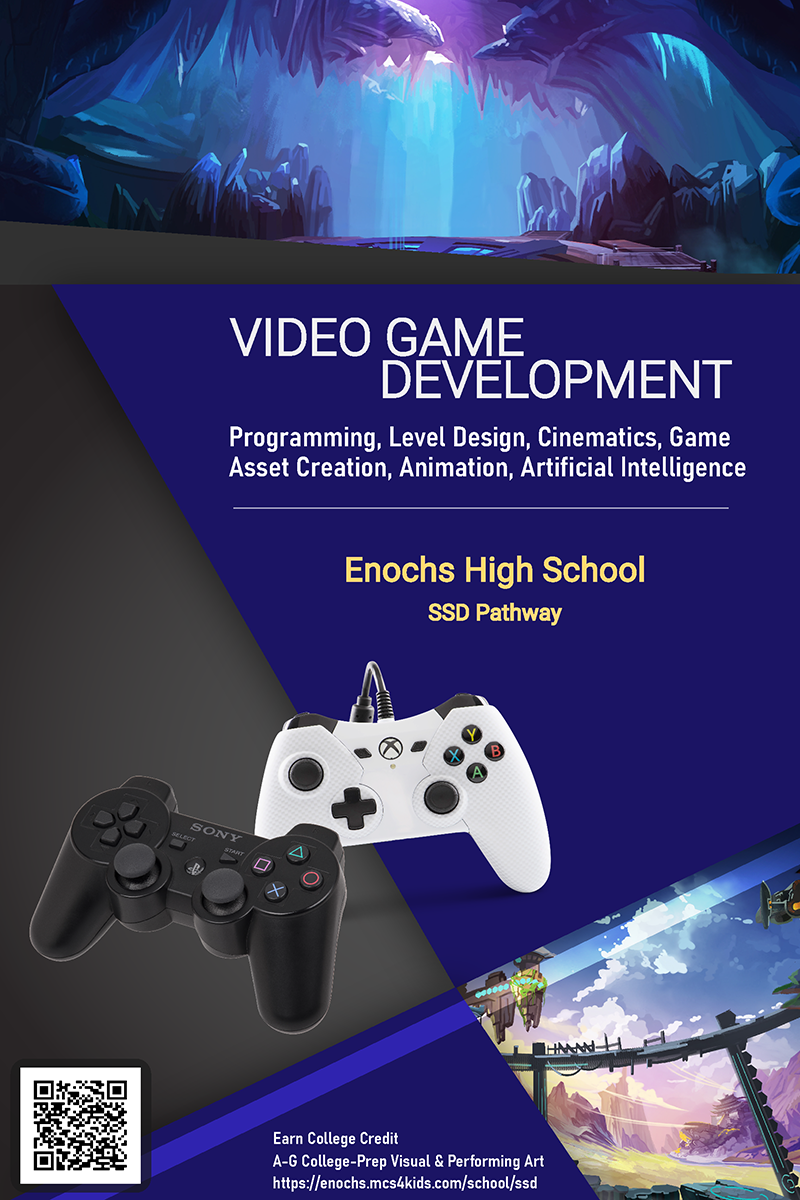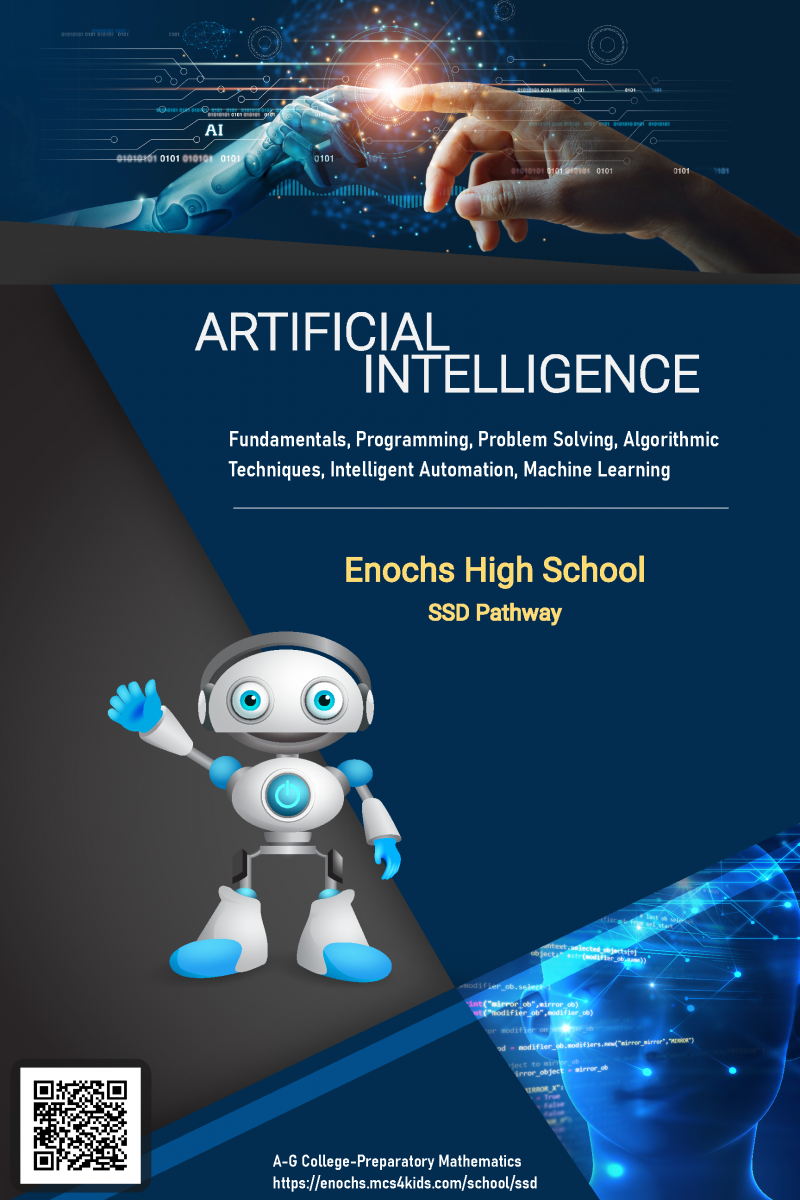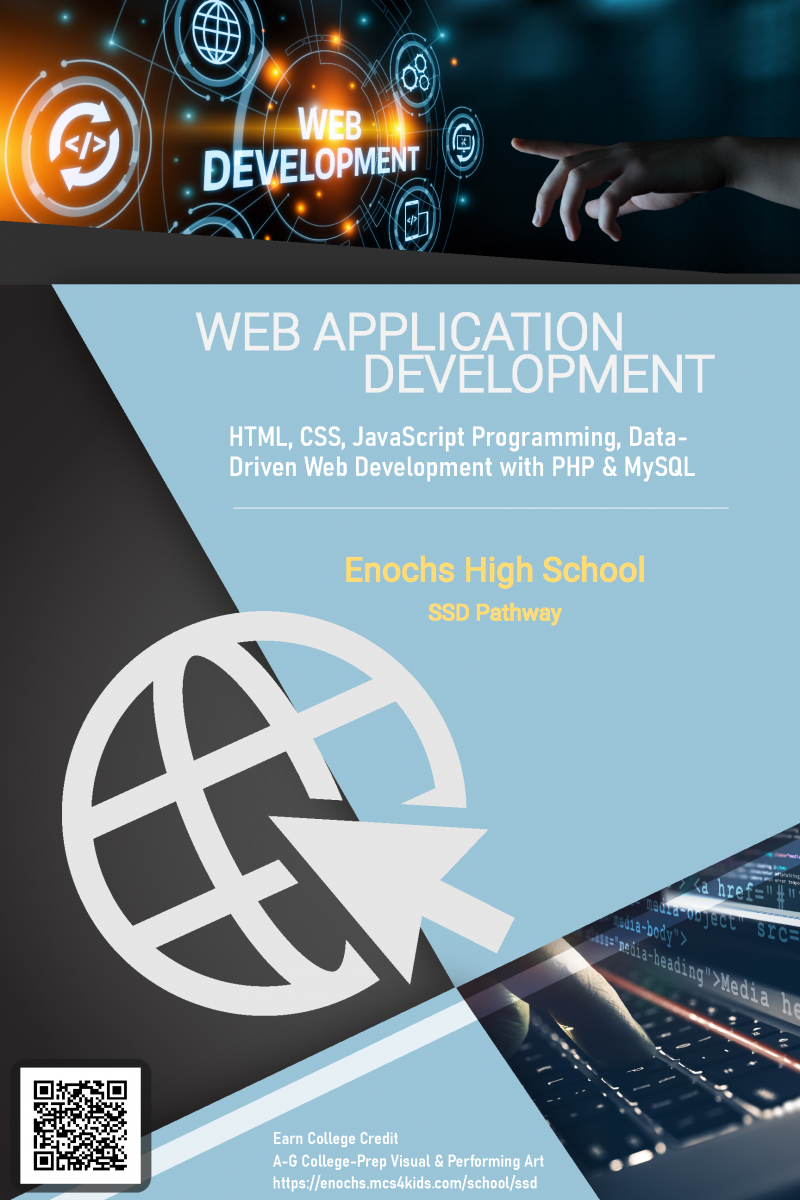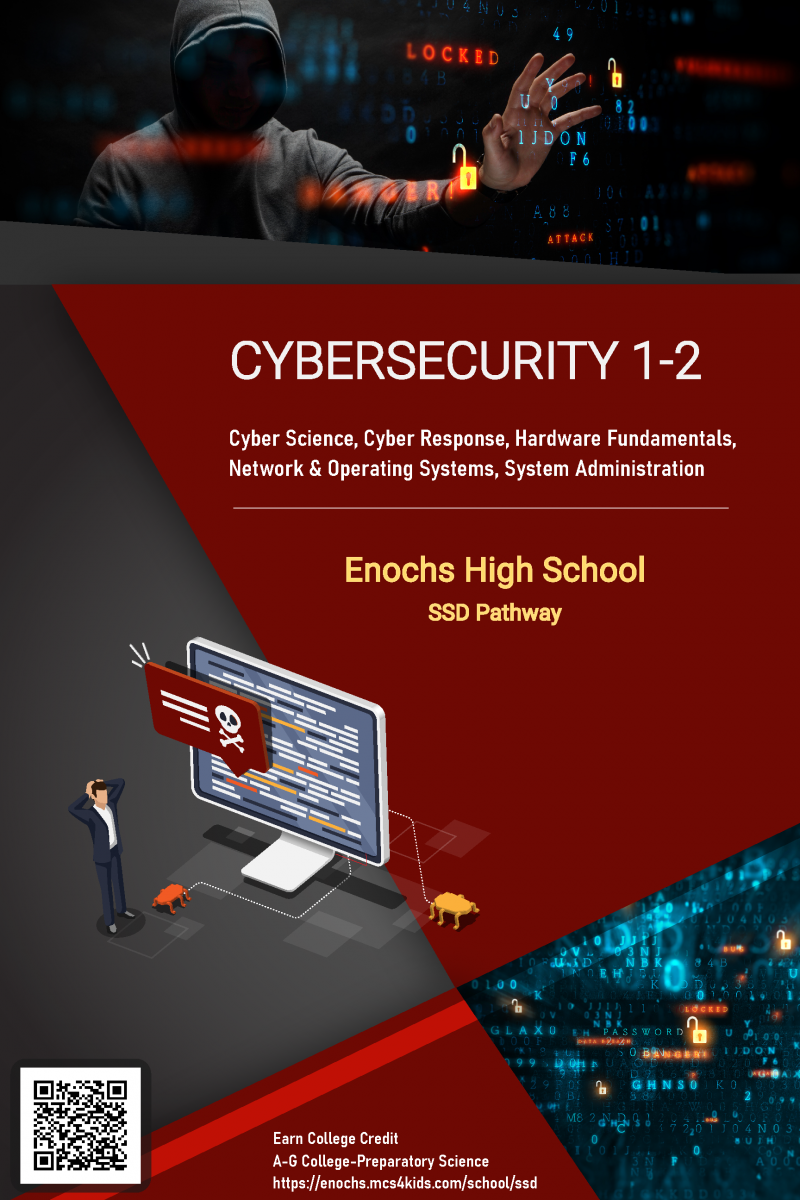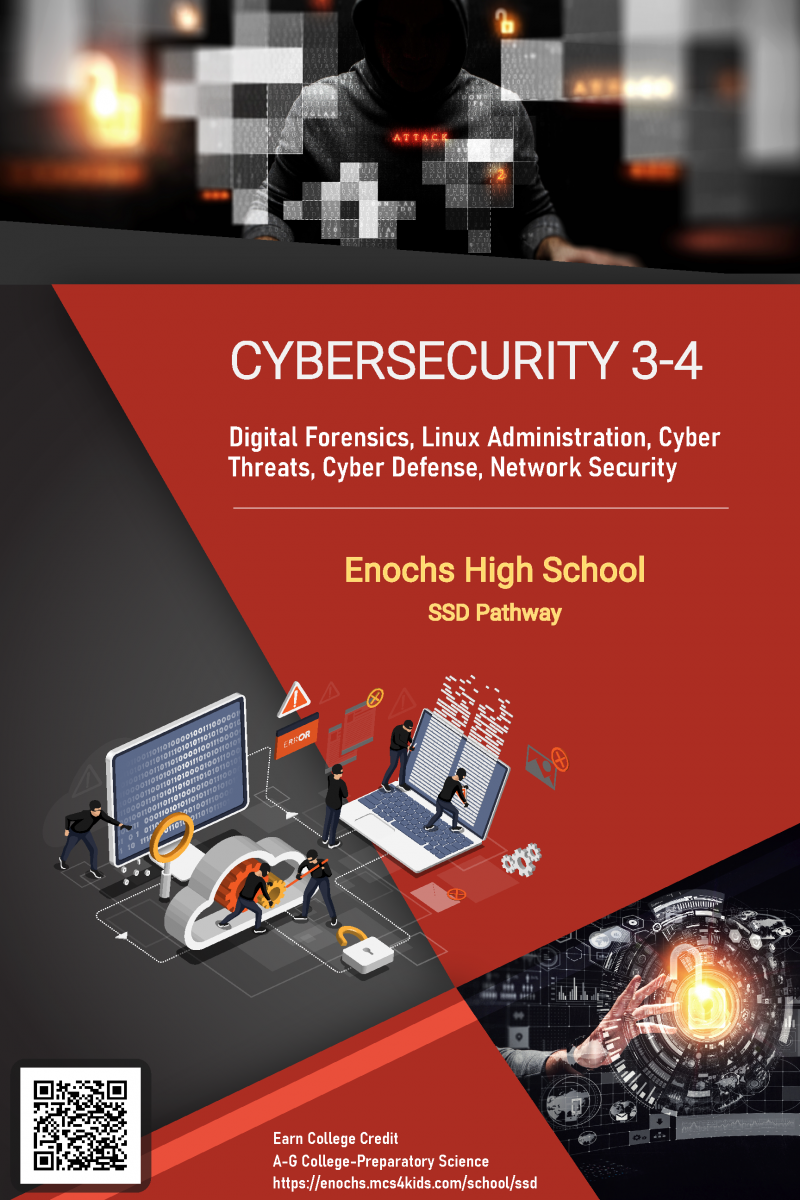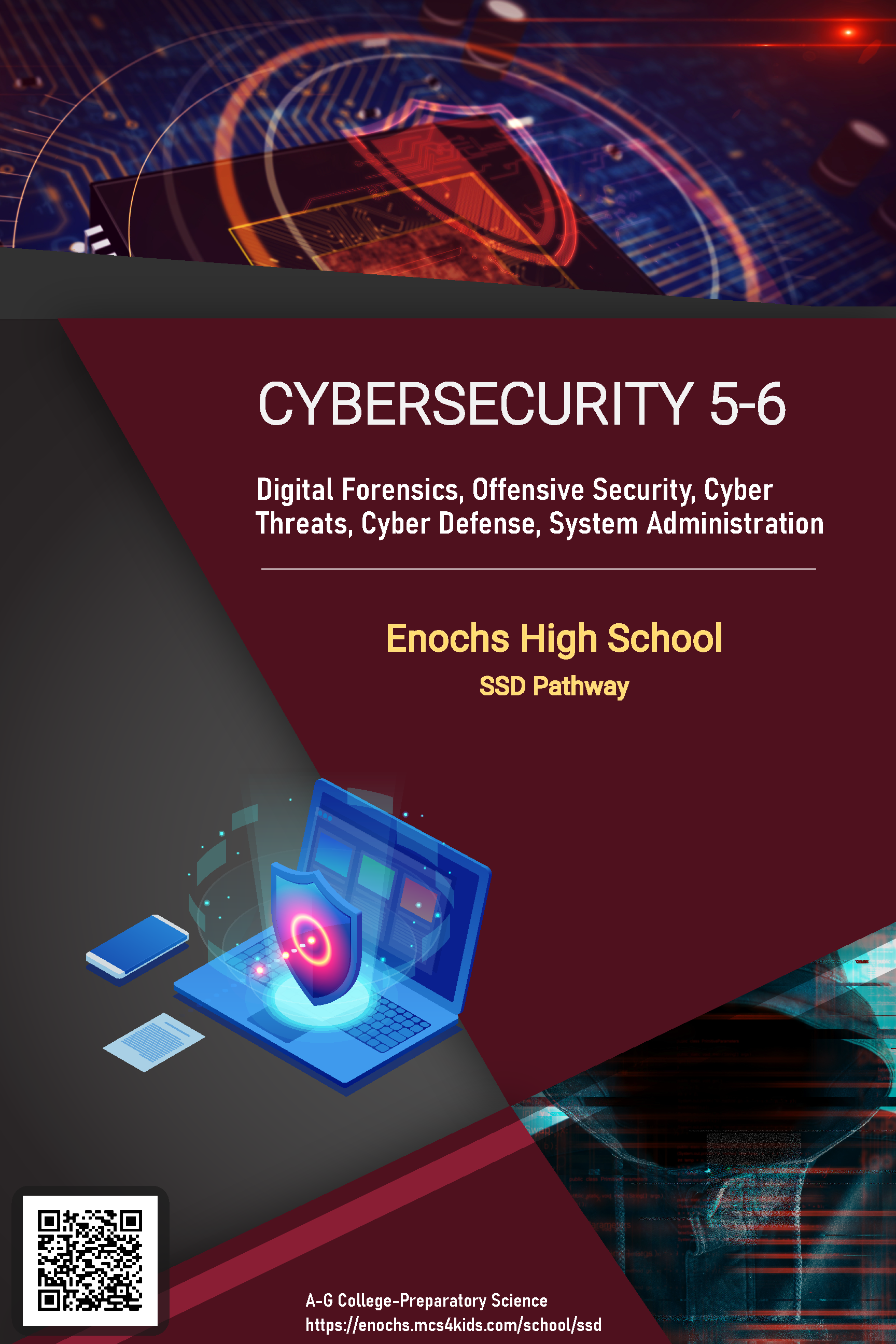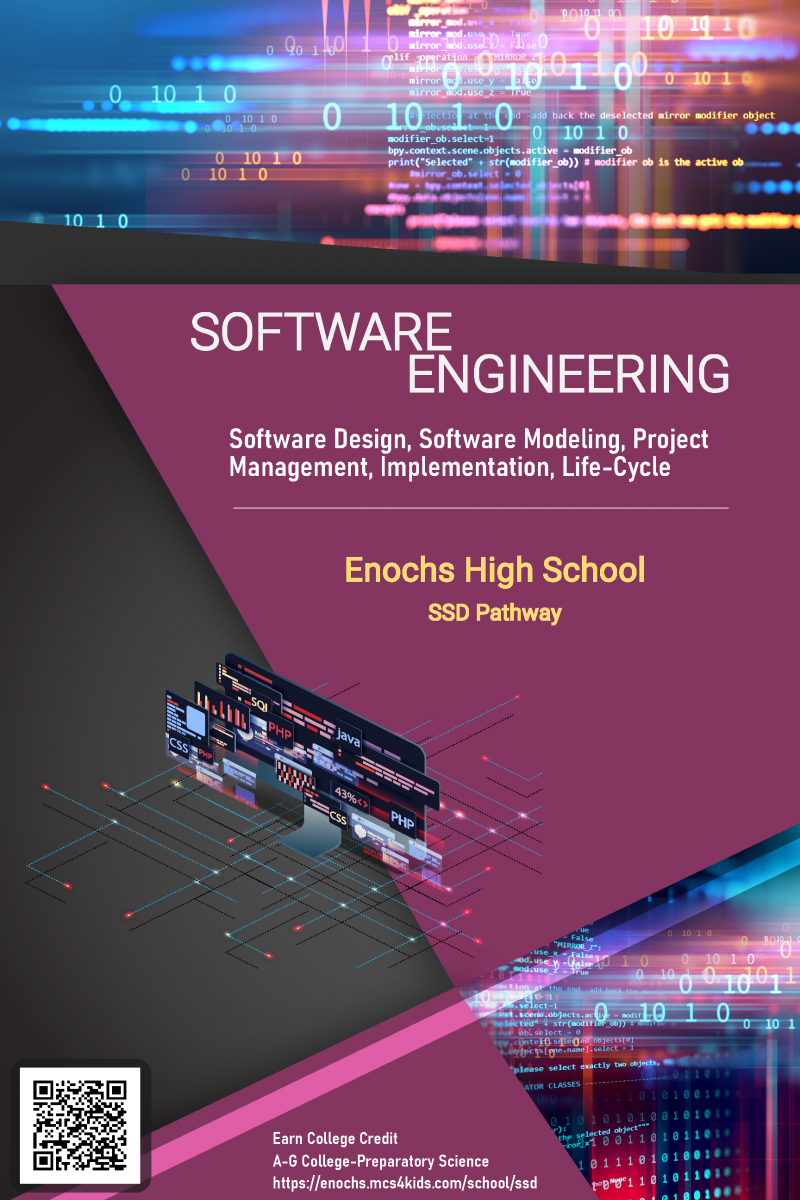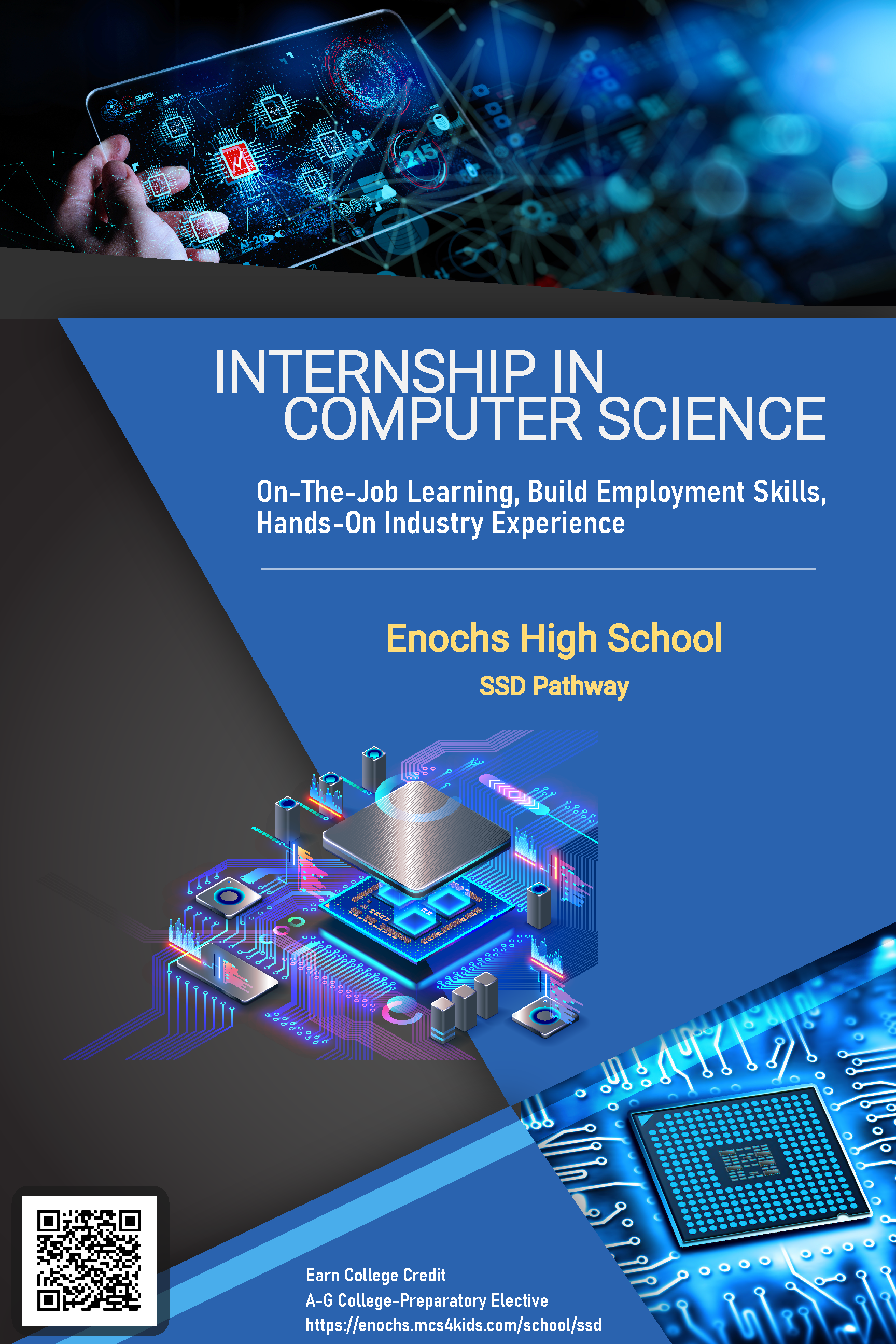 Career Technical Education (CTE) Pathways (present)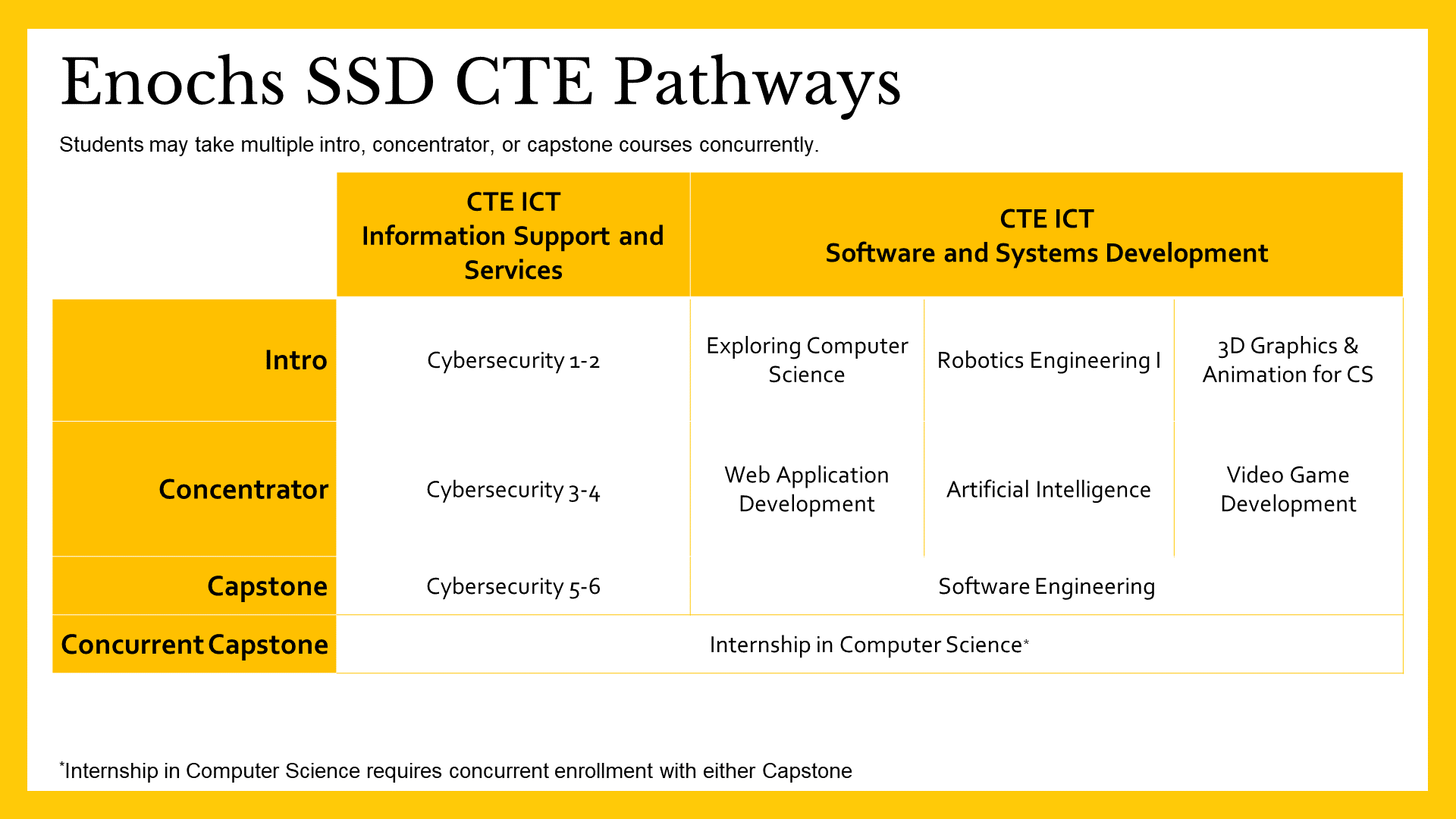 Career Technical Education (CTE) Pathways (by '24-'25 School Year)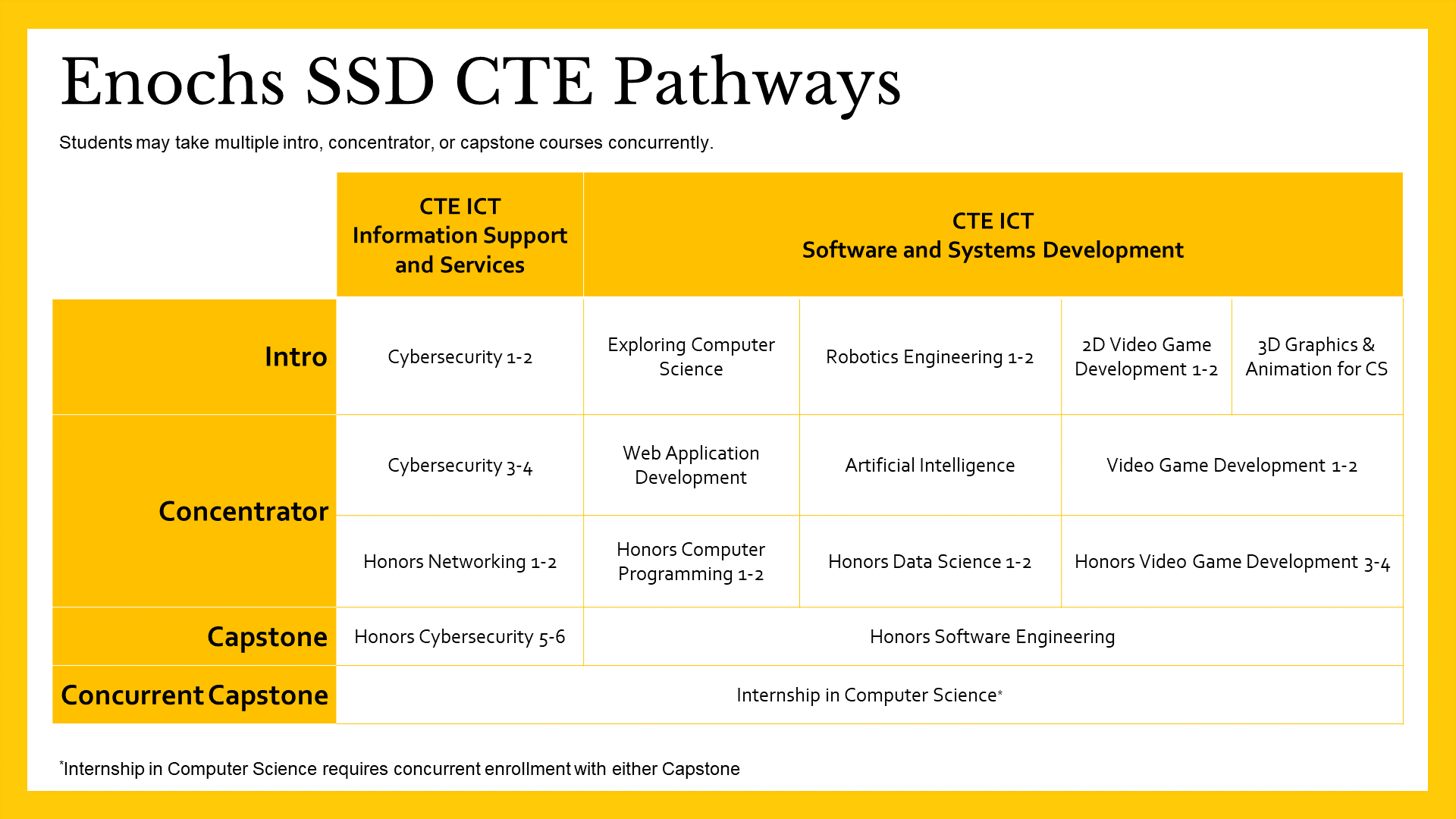 Impact of Computer Science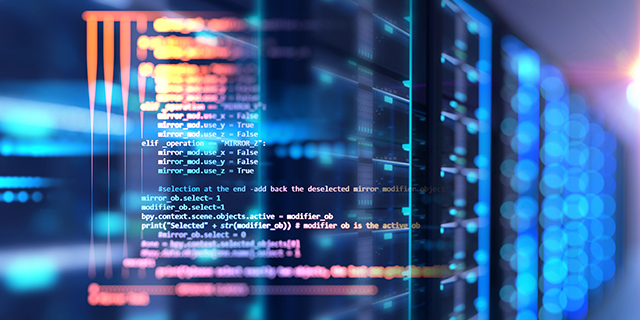 According to the U.S. Bureau of Labor Statics, 3.8 million people in the U.S. work in computer occupations. Yet more than twice as many, 7.7 million Americans say they use computers in complex ways in their jobs. Out of those 7.7 million, 3.9 million have jobs in STEM fields, and 3.8 million have jobs in non-STEM fields. All perform tasks such as developing software, modifying computer games, programming using languages like Java, SQL, PHP, or Perl, or maintaining a computer network. Source: "Education Commission of the States (ECS)"
Opportunities in computing will only continue to increase.
According to CyberSeek.org, there are currently 769,736 cybersecurity job openings in the United States; with California being one of the states with the most openings.
The most comprehensive high school computer science program in the area

Preparation for industry recognized certifications

Cutting-edge industry-standard software and tools

Graduates are more prepared for the job market

Flexible schedule allows for additional AP courses

Transferable MJC college credit through articulation

Meets many different UC A-G requirements

Digital submission of work

Fun group projects

Ongoing expansion and new course offerings
| COURSE | A-G APPROVED |
| --- | --- |
| Artificial Intelligence | "c" elective |
| Cybersecurity 1-2 | "d" elective |
| Cybersecurity 3-4 | "d" elective |
| Cybersecurity 5-6 | "d" elective |
| Software Engineering | "d" elective |
| Exploring Computer Science | "g" elective |
| Robotics Engineering I | "g" elective |
| Internship in Computer Science | "g" elective |
| 3D Graphics & Animation for CS | "f" elective |
| Video Game Development | "f" elective |
| Web Application Development | "f" elective |
The SSD pathway helps prepare students for the following industry recognized certifications: CompTIA ITF+, CompTIA A+, CompTIA Network+, CompTIA Security+, CompTIA Server+, Cisco Certified Network Associate, SkillsUSA Career & Technical Education Knowledge, SkillsUSA Framework, Precision Exploring Computer Science, Precision Computer Programming I, Precision Computer Programming IB (Java), Precision Business Web Page Design I, Precision 3D Graphics, Precision 3D Animation
SSD pathway students have an opportunity to receive transferrable early college credit through Modesto Junior College at no cost for completing articulated pathway courses with a "B" or higher grade.
| Course | MJC Course | Transferability | Units |
| --- | --- | --- | --- |
| Exploring Computer Science | CSCI 270: Introduction to Programming | CSU/UC | 3.0 |
| Cybersecurity 1-2 | CSCI 240: Networking Essentials | CSU | 3.0 |
| Cybersecurity 3-4 | CSCI 241: Advanced Networking & Security | CSU | 3.0 |
| Web Application Development | CSCI 252: Script Programming For The Web | CSU/UC | 3.0 |
| Software Engineering | CSCI 290: Computer Science Final Project | CSU | 3.0 |
| Internship in Computer Science | CSCI 295/CSCI 296B: Internship in CS | CSU | 3.0 |
| | | Total: | 18.0 |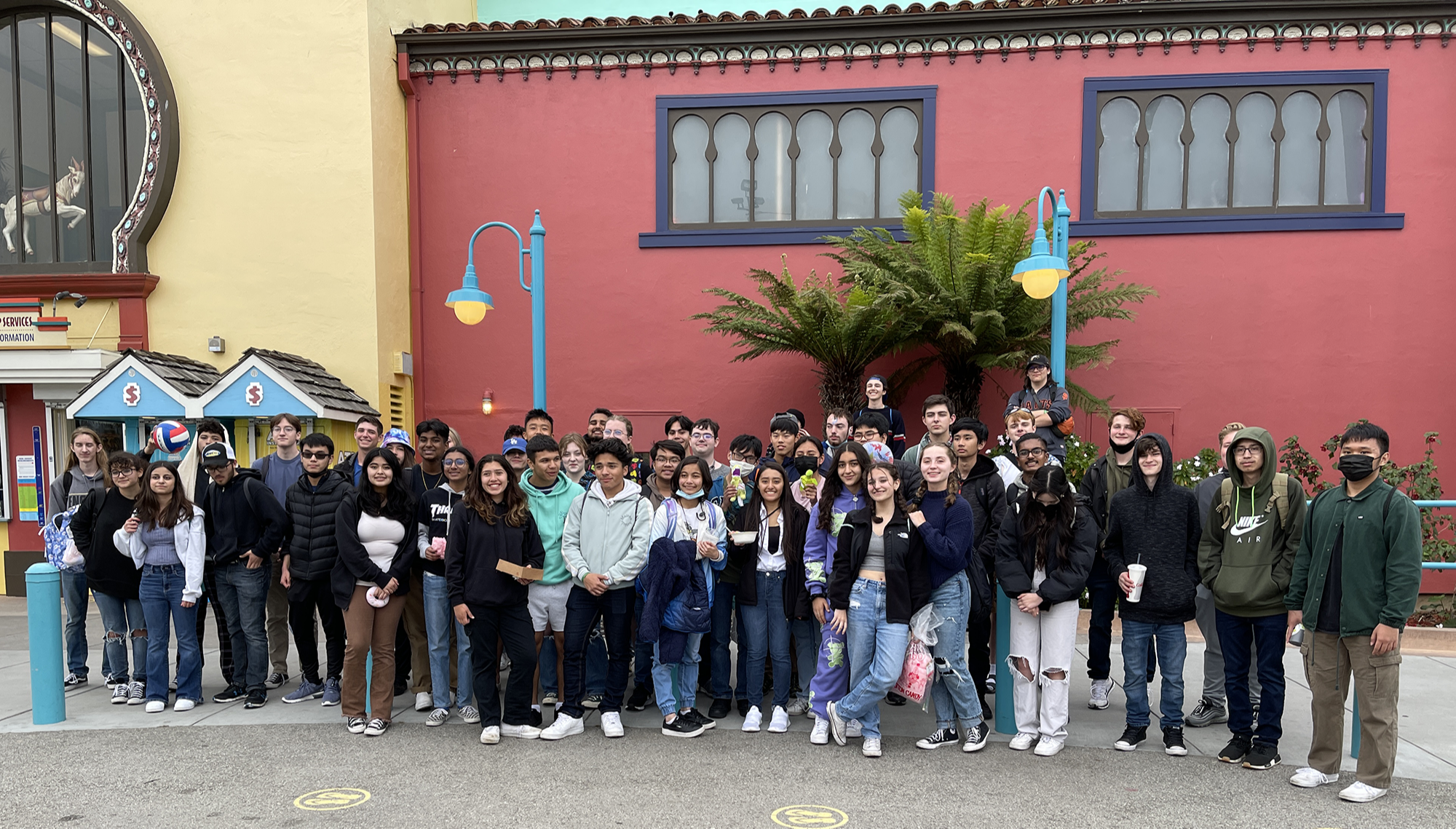 SSD pathway students have an opportunity to be part of a number of clubs and competitions including Girls Who Code, Pathway Student Leadership, SkillsUSA, CyberPatriot, National Cyber League, NorCalCyber Mayors Cup, Robotics, and more!
Girls Who Code
Girls Who Code (GWC) teaches participants about Computer Science (CS) in a fun and safe environment! Our club serves as a place (virtual included!) for girls to spend time together while learning about CS and building their confidence. We provide participants with a sisterhood of supportive peers and role models, and an opportunity to use their skills to positively impact their community. While our programs are designed for participants who identify as female to promote a girls-supportive environment, we welcome any member who wishes to join the Girls Who Code mission regardless of gender identity.
Student Leadership Team
A great pathway is a lot more than exceptional course offerings students can take each year. A great pathway helps students feel connected. The SSD Pathway Student Leadership Team are the ones that build this environment. The student leadership team works together to plan fun activities and events for all pathway students.
SkillsUSA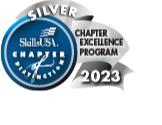 SkillsUSA empowers its members to become world-class workers, leaders and responsible American citizens. We improve the quality of our nation's future skilled workforce through the development of SkillsUSA Framework skills that include personal, workplace and technical skills grounded in academics. Our vision is to produce the most highly skilled workforce in the world, providing every member the opportunity for career success. Our program has been recognized with both silver and bronze chapter distinction.
CyberPatriot
The mission of CyberPatriot is to inspire students toward careers in cybersecurity or other science, technology, engineering, and mathematics (STEM) disciplines critical to our nation's future through fun and engaging programs designed for K-12 students. Each team competes in a series of online competition rounds by fixing vulnerabilities, hardening systems, and performing other tasks. Rounds are held on weekends, and all divisions compete on the same weekends. Teams may compete in any six consecutive-hour period within the specified competition windows during the online competition rounds. Awards and national recognition are available for winning teams.
National Cyber League
The National Cyber League (NCL) is the most inclusive, performance-based, learning-centered collegiate cybersecurity competition today! The NCL, powered by Cyber Skyline, enables students to prepare and test themselves against practical cybersecurity challenges that they will likely face in the workforce, such as identifying hackers from forensic data, pentesting and auditing vulnerable websites, recovering from ransomware attacks, and much more! The NCL is a community and virtual training ground that allow students to develop and demonstrate their technical cybersecurity skills, helping students bridge the gap from curriculum to career.
NorCalCyber Mayors Cup
The NorCalCyber Mayors Cup brings awareness to cybersecurity careers and provides students an opportunity to engage in team-based learning. The Sacramento County Office of Education and the North Regional Consortium invite students, educators, businesses, and government leaders from across Northern California to participate in the NorCalCyber Mayors Cup experience.
Robotics
The Robotics team (Robonox) meets regularly after school to plan, strategize, and problem solve how to build a robot that can best complete each year's challenge. It's a fun way to collaborate with others using imagination and skills to build a robot!
eSports
Enochs eSports is an extracurricular collaboration with other district schools where students get compete against other schools (both in and out of district) in competitive video games! We have 12 custom gaming stations that deliver excellent game play experiences with a team friendly co-op environment. As part of the Central California eSports League (ccesports.org), Enochs challenges all CCeL schools in 3 different games, each with a different season. The Fall Season provides 5 v 5 team-based strategy game League of Legends. Winter Season is all about cars and soccer as our 3 v 3 teams play Rocket League. The Spring Season brings Valorant, a 5 v 5 FPS with offense vs defense challenges. Communication is key to successful teamwork and developing a team that works well together is our primary objective. If you like to game, and want to be part of good teams, then Enochs eSports could be the right extracurricular for you!
Fun Monthly Activities
SSD pathway students also have an opportunity to take part in fun monthly activities after school to help build strong friendships. SSD pathway activities include places like The Gaming Hub, Funworks, Boomers, Rockin' Jump, Potlucks, Pool Parties, and more.
Field Trips
Juniors and Seniors in the pathway have an opportunity to attend yearly field trips to colleges and universities that offer program related majors.
If you're already enrolled at Enochs, let your counselor know you'd like to be part of the SSD pathway; and ballot for one or more of the SSD pathway classes. If you're an 8th, 9th, or 10th grader attending a school in a different high school boundary in Modesto, you can request an intradistrict transfer from your home high school; or pursue open enrollment. If you're an 8th, 9th, or 10th grader attending a school outside of Modesto City Schools, you can request an interdistrict transfer from your home high school's district office. For more information on the IDT process; Open Enrollment; or for an IDT application, click here.
We currently have students interning at Modesto City Schools IETS, Sylvan Unified IS, Alpine Protective Solutions, SaveMart IT, SavWill Productions, Modesto Chamber of Commerce, and OtterSoft.
Follow the Enochs SSD on social media!